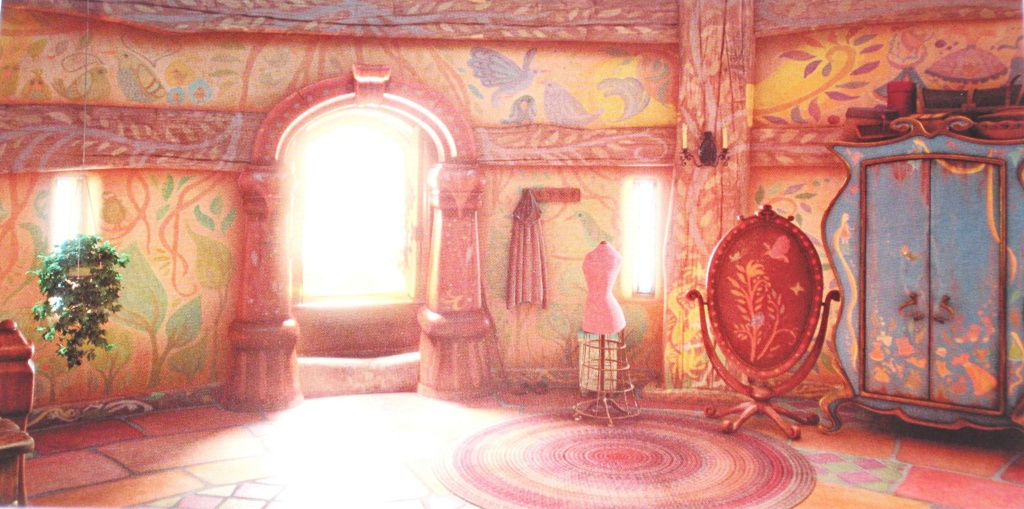 The fifth floor of the central tower is a dimly-lit circular room cut from dull gray stone, with a stairwell rising through the center of the floor. Evenly spaced heavy wooden doors are set into the surrounding curved wall of the room, and these are labeled with neat gold lettering on the gray stone above each door:
Gwynnestri Siannodel
Laerdya Siannodel
Luther Rivvers
Balasar Skarsclen
Andry Savoirnen
Erdan Scionsire
The dull circular room is empty save for an elderly white-haired halfling man dressed in the faded and long-unused regalia of the Feytower guard. He smiles when he sees Luther, then snaps to attention when the rest of the party comes up the stairs.
"At ease, Wellby," Luther says with a curt nod. "We need into Gwyn's room. Do you mind?"
"Not at all, sir," the man agrees, fumbling to open the door with a heavy key at his belt.
"We'll be awhile, I imagine. Go on downstairs and have Cook get you something. Oh, and can you send up the burser? Party of eight, Laerdya."
"In a jiffy, sir," the halfling agrees. He nods to the ladies as he passes them, then disappears down the winding staircase. Luther holds the door open for the party, stepping in after them and closing the door behind everyone.
The first thing they notice is the pink. Where the room isn't pink, it's purple; and where it's not purple, it's yellow or a faint baby blue. If a frill of lace or silk could be added to a surface, no expense was spared to do so. Laerdya could not have furnished her daughter with a more beautiful room in all of Brilight; a princess of the capital could be born in this room and no one would bat an eye at impropriety.
Well, they might object to the coffin. It's the second thing they notice, and it takes a moment because it doesn't
look
like a coffin. The object is made of glass and lies on the lush bed dominating one wall of the room, the top gently curved like one of the delicate snowglobes the glass-blowers craft. Inside the glass is what appears to be a perfect wax replica of the lost girl whose illusion they were shown downstairs; the doll doesn't breathe and her closed eyes don't move in sleep, but otherwise she could be the very girl they've been hired to find.
The room is otherwise unremarkable. Three windows let in light at the outer wall and look down onto the sprawling Feytower complex below. The drop is dizzyingly far; without magic, a jumper wouldn't survive. The windows are currently heavily barred from the inside with iron bars and locks; the clash with the decor suggests that this was added recently, presumably after the kidnapping.