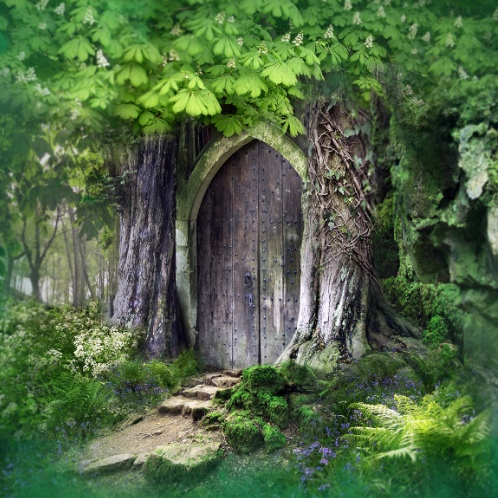 The entrance to the temple of Yondalla can only be entered through an unassuming wooden door framed by two towering trees. Once inside, visitors and supplicants to the goddess may view the beautiful gardens which are tended by her clerics in service to the fertility mother-goddess.
Peaceful paths meander in pleasing patterns through the greenery, allowing weary pilgrims to rest their souls and find refreshment. Rowdy children run freely through a park of mown grass set aside just for them, tumbling and playing and picking flowers to braid crowns. Yondalla is goddess of law and order, yes, but she is also goddess of fertility and family, and understands how to accommodate the messy realities of these domains.
Ellowyn has been here many times before, of course. Pilgrims come to the goddess seeking miracles and cures, only to find that those miracles cost more than they were prepared to pay. Ellowyn provides miracles of a cheaper sort: canes and chairs with wheels and braces for necks and backs and legs. The work is rewarding for them and they like helping people--and the pay isn't bad, either. Everything has felt different since they were brought back to life, however; as though this new body were a half-step out of sync with their old reflexes.
Through a small crowd of pilgrims, they see the familiar face they'd come here half-seeking: Marta Agosti, customer and patron and... friend? Yes, maybe, though it was hard to tell with the strong-willed elderly woman who could be loving one moment and heavy-handed the next. She sits on a stone bench on the quieter side of the gardens, away from the children, and meditates on a single perfect long-stemmed rose which she holds in her hands.