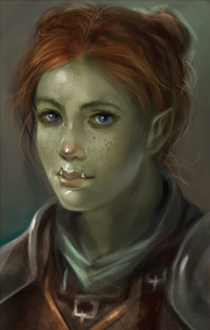 Name
: Ellwythorn ("Thorn") Redfang
Race
: Half-orc / Half-elf
Age Category
: Young Adult
Appearance
: Pale green skin, copper hair, and blue eyes; a strange and unusual mixture of delicate elven features and hearty orcish stock. Even so, has a strange knack for blending into the scenery and looking smaller than life.
Commonly Known
: Thorn is the only child of Immeral Xiloscient, a wood elf on the council of elders in a hereditary seat. When Immeral dies, his political power will pass to Thorn or Thorn's children.
Thorn is married to Betreygis Redfang, the eldest son of a poweful orcish crime family and a high-ranking cleric in the temple of Olidammara. Treygis married Thorn for the political power and access to Immeral that the relationship brought him, and folded Thorn into the Redfang family so that the young politician-to-be would not be able to extricate personal needs from the demands of the family.